A lot of businesses have experienced the disruption that has been caused as a consequence of COVID-19. It is no exaggeration to say that this pandemic has changed the way that we do business.
Normal cleaning practices and standards are not going to suffice if you are going to be able to reopen your business safely. Instead, effective coronavirus decontamination is essential.
So, In light of the recent outbreak of coronavirus, this is a particularly important service we provided to reopen using the very latest specialist electrostatic-sprayer and disinfectant chemicals to specifically tackle coronavirus.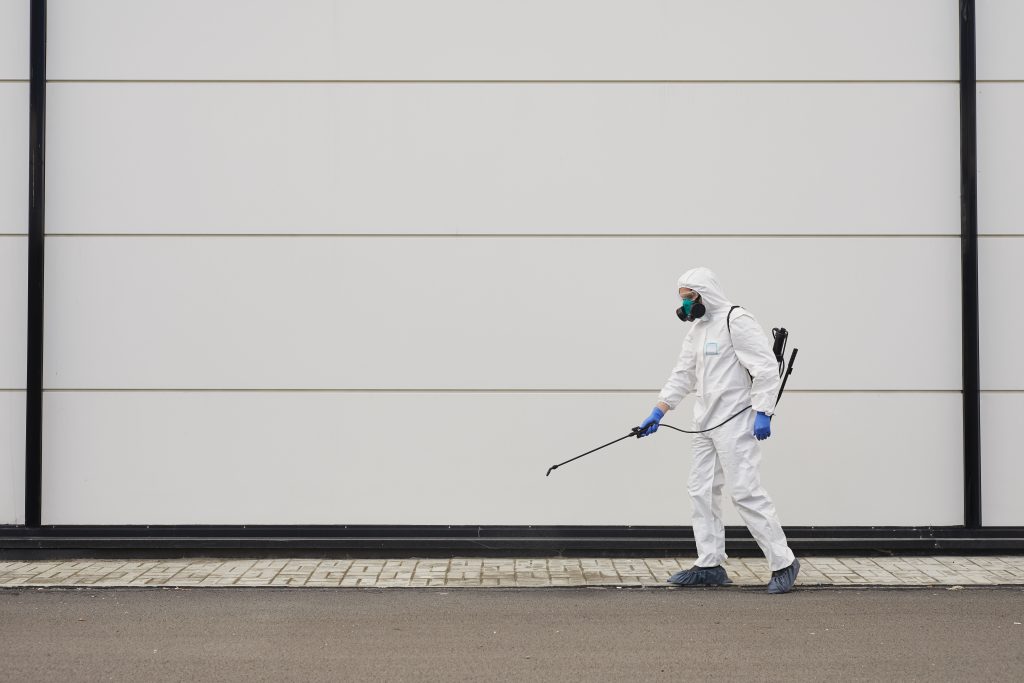 Ensuring your business is a safe environment in light of COVID-19
As the COVID-19 has impacted the UK, all environments must be effectively cleaned and decontaminated, with social distancing in place. This not only includes businesses, but schools and universities as well. We have carefully read all of the guidance that the government has put in place and we stay up-to-date with the latest medical advice. We combine this with our many years of experience to ensure that you are given a specialist coronavirus deep clean and contamination service that will put your mind at ease.
We will prevent the risk of infection by disinfecting sites effectively. We use specialist equipment to ensure that sites are decontaminated in a safe and quick manner. This includes shops, cinemas, care homes, clinics, universities, schools, offices, and much more.
We know that the rules and regulations regarding coronavirus decontamination and social distancing are going to change and progress as time goes on. This is why we make sure that we keep abreast of everything that is going on so that we can provide you with the most effective service. After all, the last thing you want to do is get on the wrong side of the law when your business re-opens because you have not taken sufficient steps to safeguard people. This is something that you are not going to worry about when you use our service.
Get your business reopened as soon as possible
We know that this has been a period of grave concern and worry for a lot of business owners out there. You may have found your business closed for a few months. One of the keys to ensuring that you are able to reopen as soon as possible is changing your workplace practices so that cleanliness and safety are prioritised. If you don't know where to start, please do not worry. All you need to do is give our team a call and they will be more than happy to assist you so that you can get your business up and running again.
The best company for coronavirus deep clean services
Now you know everything you need to regarding coronavirus cleaning and why it is so important. The only thing you need to do is find a quality company that can provide you with this service. Luckily, we can do just that.
We offer a superior quality coronavirus deep cleaning service for you to take advantage of. We are fully certified to carry out deep cleaning for businesses. You can be confident that no stone will be left unturned when choosing us as your coronavirus deep clean company.
It is also advisable to get proof that you have had your business professionally cleaned in case an incident arises, such as a health inspection or an insurance claim. We can supply you with a written report, alongside before and after photographs, so that you are fully protected.
You will struggle to find another cleaning company that goes to the lengths we do. Not only will you benefit from a crystal clean kitchen, but also the necessary documentation, certificates, and reports to go with it.
When looking for a coronavirus deep clean company, one of the steps you will take is to read reviews that have been left by previous customers. After all, you want to be sure the business has a good reputation. We are delighted to tell you that this is something you need not worry here. We encourage you to read the reviews that have been left by our customers. We are proud to currently have a five-star rating and we are confident you will feel the same way as our previous customers once you take advantage of our service.
We advise all businesses to book our coronavirus deep clean service before they reopen and periodically to ensure standards are maintained. We also have a vast scope of other services for you to take advantage of if necessary. This includes carpet cleaning, contract cleaning, and much more. Please do not hesitate to give us a call today for more details.