We clean both state and private / independent schools. Our approach is to provide a more intelligent service to schools wanting to partner with a cleaning contractor over the medium-to-long-term.
Our capabilities include being able to work to any agreed service framework cleaning for a school the size of Weydon (up to 2,000 pupils) for both general cleaning and project deep cleans. We can guarantee cost savings, whilst increasing cleaner pay, introduce new best practices and store cleaning equipment on site. We can TUPE/strengthen existing school cleaning teams or support in-house cleaning teams…all with proven, DBS-checked school cleaners.
Schools need to be kept as clean as possible at all times. This is an important concern for the pupils, the teachers and other staff, and for any visitors who might come to the school – not to mention the parents of the children in question. If the school is not seen to be as clean as possible, then that is easily going to reflect poorly on the school. Over time, this could lead to a worsening of reputation in the local community, which might even affect admission figures. What's more, research has shown that untidy or dirty environments make learning more difficult, so it could even be affecting the children's education.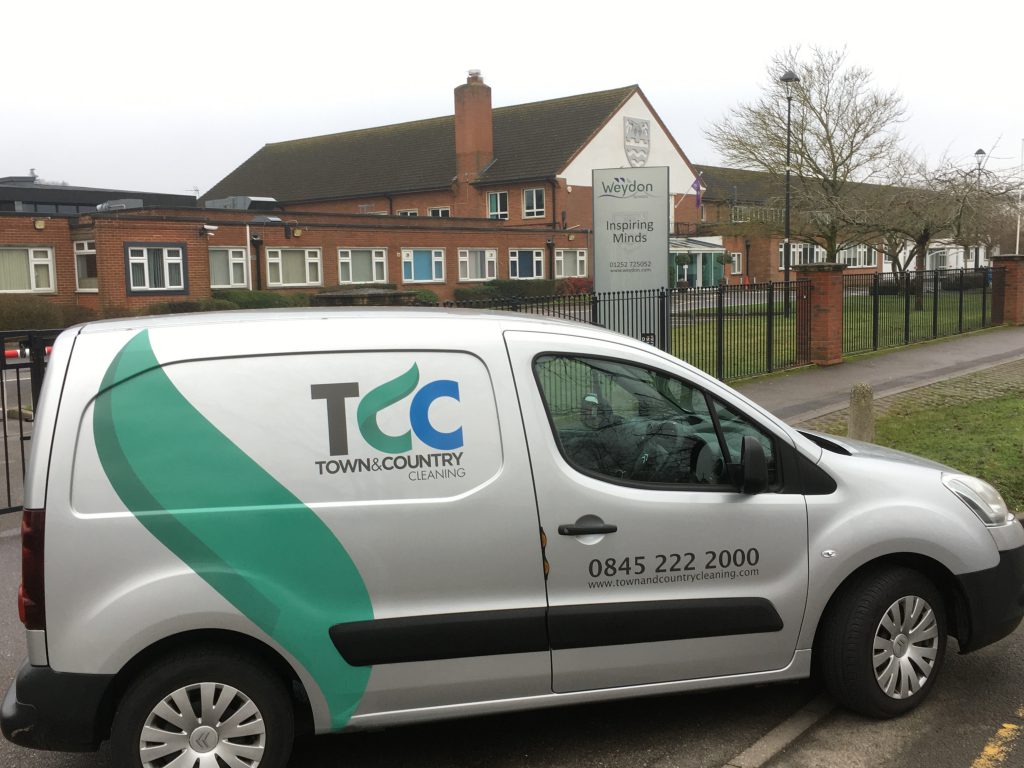 Professional & Dedicated Team
When you need someone to come and clean your school, you need to know that you are hiring a professional and dedicated team. That's why so many people come to us, as we have such a strong reputation for being dedicated to what we do. We also always bring a high level of professionalism to our work, with the end result being that the schools we clean are always left sparkling. If you have been searching around for a good trustworthy team to clean your school, you need look no further.
Safe & Reliable
When cleaning in schools, there is always the issue of safety and security to think about. So it will encourage you to know that all of our employees are regularly DBS checked, so you don't have to worry about that issue. We know how important it is to remain safe and secure, which is why we act in the most trustworthy of ways. We have a good reputation for being reliable and professional, and we are happy to say that we have a long history of satisfied clients, in schools and a range of other settings too. This safety and reliability is key to why we are so appreciated by so many.
Inspect & Clean
Our professional staff are more than happy to carry out a full inspection of the school, highlighting any specific problem areas and keeping a close eye on what parts of the school might need extra attention. If you are keen to ensure that your school is cleaned as thoroughly as possible, then you will be glad to hear that we offer a thorough inspection as part of our service. No matter what the situation is, we will always leave having cleaned the school as thoroughly as you would hope, paying particular attention to any problem areas we might have discovered.
Get In Touch Today
If you are in need of some professional school cleaning, don't hesitate to get in touch today to find out more about our services. Our friendly and engaged team will be more than happy to discuss your needs with you and see what kind of cleaning schedule might be necessary for your education centre. With our help, your school can look it's very best, thereby helping to improve its future prospects and the prospects of your students.