We have multiple window cleaning teams capable of cleaning a domestic home, builders clean, regular communal window cleaning, through to large-scale commercial window cleaning. We provide both reach and wash pure water fed pole system and detailed hand window cleaning.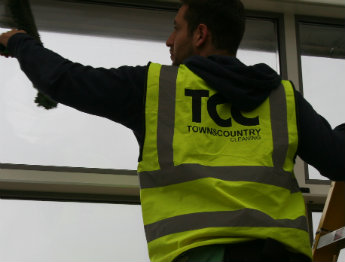 Reach and wash is a professional cleaning system using purified water, which offers quicker and cheaper cleaning and a better finish with no smudges or stains, especially for high and hard-to-access windows, which is better for the environment using less water and detergent. Our window cleaners are IPAF/PAL certified to work at heights, work off scaffolding or mobile access platform equipment such as cherry pickers and scissor lifts. All window cleaning comes with a 100% customer satisfaction guarantee.
Our homes are our pride and joy – not only the place we escape from the world and enjoy family time and the company of our friends, so it makes sense to keep them looking their best. And when it comes to a beautiful home, it's all in the details – like maintaining sparkling clean windows. A professional window cleaning service can help to keep your home looking smart.
Keep Your Glass Sparkling
The main reason to keep your windows well maintained is cosmetic. But did you know that it also looks after the Glass? Yes, over time hard water deposits and weather like acid rain can degrade the quality of your glass. You may notice some gradual corrosion. This can be especially acute if you live near to a busy main road. And whether you live in a period home with carefully preserved sash windows or a more modern residence, it pays to care for your windows. Many homeowners choose to undertake costly building work to extend their homes, and the trend right now is very much for bi-fold or sliding patio doors, floor-to-ceiling windows and a glass apex – all impressive expanses of glass that flood a home with light, but are costly and should be well maintained for the best appearance and lifespan. Removing the mineral deposits that build up on glass is best tackled with a professional window cleaning service, who will have the right products to clean and care for your glass and leave a streak-free finish.
Up Your Kerb Appeal
When our homes look well-kept and appealing from the outside, it's a welcoming sensation every time that we come home or welcome guests – and if you ever come to sell, kerb appeal can enhance the value of your home. When you book a regular window cleaning appointment, and combine it with tasks such as making sure any grass is well trimmed, flower baskets are tended too and masonry freshly painted, it can really make a difference to how you feel about your home.
Keep It Energy Efficient
These days, we're all more aware than ever of our impact on the planet – and our heating bills. We spend a lot of effort on trying to make our homes well insulated. But did you know regularly getting your windows cleaned could help with that as well? If there is a lot of build-up of dirt, grime and waste particles on windows or skylights, this can coat the glass and reflect the sun's UV rays, meaning that your house will be colder and you'll need to resort to sticking the heating on more often. Over time, this adds up to an extra cost on your energy bill – one you can avoid simply by making sure that your windows are well maintained and clean!
Enjoy Your View
Often we don't realise how dirty our windows are! And if they're dirty, it's likely they are blocking out some of the light and spoiling your enjoyment of your view. Clear, bright, transparent windows are a joy to look through and are sure to give your mood a little lift!
Arrange contract window cleaning services today and your property could be looking great in no time. Simply contact us for a free quote and you're one step closer to sparkling windows.