At Town And Country Cleaning, we have many years of experience in the industry. From small offices to large multinational companies; we have provided our office cleaning services for a wide range of clients over the years.
Our office cleaning services promote a safe, healthy, and productive work environment. They also ensure you have an organised, professional, and modern workplace, which brands your business effectively. After all, your offices play a huge role when it comes to client perception. From the washrooms and kitchens to the meeting areas, offices, and reception; we will ensure that every corner of your office is spotless.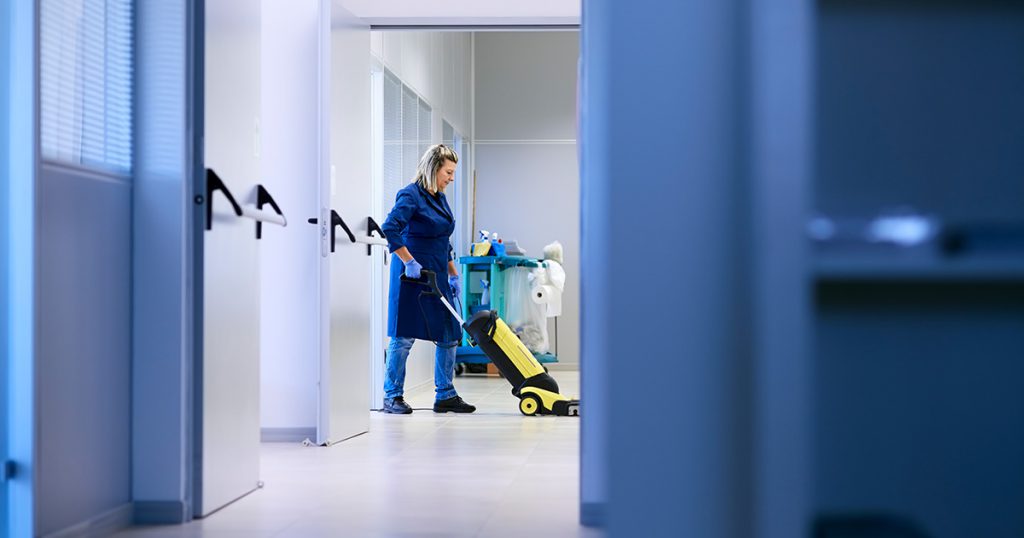 Why office cleaning is important
There are a number of reasons why you should consider cleaning services for your office space. Firstly, a clean office can increase the productivity of your business. This is because there is no clutter, meaning your workforce is able to focus on the task at hand. This also reduces stresses. Plus, your workforce is left to focus on the tasks that really matter. If your employees currently spend half of their time looking around the office for things, you know that it is time to hire a professional cleaning time.
Office cleaning can also help when it comes to creating a healthier office space and reducing the number of sick days. Did you know that as much as 7,500 bacteria can be carried by a typical office keyboard at any given time? Plus, the typical employee will have nine days off work every year due to sickness. You can reduce this figure by ensuring that your offices are as clean and healthy as possible.
You can also help your employees to feel valued and appreciated by giving them a safe, clean, and healthy environment to work in. Little things like this can make a massive difference when it comes to your employee retention rates. After all, no one wants to work in a dirty office.
What our cleaning service includes
We always cater our cleaning services to suit your requirements and needs. We cover all areas. This includes vacuuming carpets and polishing floors, as well as cleaning kitchens, staff rooms, and cafeterias. We can also clean air conditioning vents, external fascia, food prep areas, washrooms and WCs, painted surfaces, skirting boards, door handles, and more. We will empty your bins and replace the bin pags, carry out spot cleaning, and dust and polish surfaces too. We will leave no stone unturned when ensuring your workplace is pristine.
Contact us today for more information
If you would like to find out more about the office cleaning services that we provide, all you need to do is give us a call and we will be more than happy to help you. You will speak to one of our friendly and professional customer team members. They will answer your queries, no matter how big or small. We can also provide you with a quote for office cleaning, whether a one-off clean or on a regular basis.