Your IT services are one of your business' most precious commodities. You want to be sure that they are in good working order and here at Town and Country cleaning, we are a team of specialised and highly professional cleaners, that can clean contaminated hardware, restoring it back to its former state and enhancing its operations.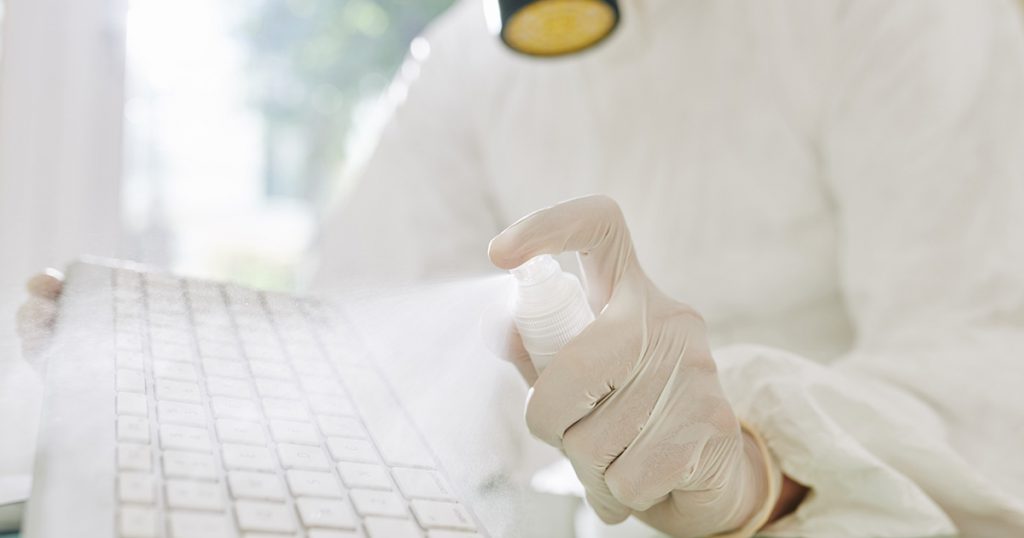 It is a specialised area of cleaning that is vital and can't be achieved thoroughly by anyone but a professional. We provide cleaning to all areas of IT services, including telephones, and other IT-based equipment.
We work to remove build ups of dirt, grime that lead to germs and bacteria within the workplace. This can create poor sanitation leading to viruses and potentially putting workers at risk. We work to reduce this and eliminate all areas of bacteria to ensure that there is no further damage; this is performed by our professional cleaners.
IT servers often gather dust and grime and may frequently be touched by engineers for upgrades or inspections, we aim to clean them fully using our high quality equipment and approved products. We also offer computer equipment cleaning services, which can eliminate dust gathered behind computers or in between areas where wires and servers meet; using our specialised dust extraction pumps.
Keyboard cleaning is also a vital part of what we do; we appreciate that keyboards become incredibly dirty over time. They are constantly being touched and so we aim to create a fresh look for all computers, using antibacterial and disinfectants to ensure that the area is spic and span. It is a vital safeguard against any type of poor sanitation that could lead to illness in the workplace.
Telephone cleaning is also one of our most important tasks. Telephones are often used by multiple people and therefore they can harbour dirt and germs near the speaker and the handle itself. We wipe and clean thoroughly with antibacterial solutions to ensure that phones can be used with ease.
What makes us the best choice?
Our professional and highly experienced team work well to goals and targets, ensuring that your workspace is a functional area. They are highly trained and have a plethora of experience within the industry which allows you to stop worrying about the cleanliness of your office and focus on more important things. When you choose us we will ensure that your safety requirements are met.
It is already believed that there is up to 400 times more bacteria in the workplace than on a toilet seat; a sobering thought for business owners which is what makes our work so valuable. 60% of work illnesses are contracted within the office from dirty equipment and to avoid further issues, it is vital that you act now to ensure that everyone remains safe. Without excellent cleaning methods, you are still exposing your staff to harmful toxins; which is what makes our team at Town and Country Cleaning a great choice for your needs. For further information on how we can assist your business, please do not hesitate to get in touch with us today.