Building work or full-scale overhauls can result in a daunting clean-up job after the fact. To save yourself and your employees the stress and time of ensuring everything is fit for purpose, you will want to hire the experts for a professional office refurbishment clean.
A thorough job will ensure every area of your building is free from dust, dirt and debris. This will create a healthy and welcoming environment that your team deserves. After all, having just invested money and effort to a workplace revamp – you don't want it all going to waste.
Also, because your offices play a huge part in client perception, it is important every section is approached with an expert eye. From bathrooms to kitchens, desk spaces and meeting rooms – we have many years of experience in the industry.
Not only do we provide bespoke cleaning services but our time with small organisations and multinational companies means we are ready to tackle any eventuality.
Why Is A Professional Office Refurbishment Clean Important?
Well, apart from the factors already mentioned above, there are a few reasons we always recommend this service to businesses across the country.
Firstly, going through the refurb process will often leave heaps of clutter and building mess to get rid of. The desire to just enjoy the new elements of the workspace and leave the rest for another day often becomes overwhelming. As a result, the organisation process gets left further and further behind.
However, doing this often makes it hard to fully focus on your role and the important tasks at hand. Hiring an expert company to do the hard work for you can help increase the productivity of your business. Not only does it reduce stress, but it makes it far easier for the team to find things and utilise the space as they need to in order to fulfil their responsibilities.
As well as this, a professional office refurbishment clean can help reduce the number of sick days your staff are taking. A build-up of dust and germs can impact the air quality and leave illnesses lingering around the workplace. As the average employee will take around six or seven sick days a year, you can reduce this by creating a clean and healthy environment free of clutter.
Furthermore, the idea of a workplace revamp is exciting to employees. It shows they are valued and appreciated because they are benefitting from the potential of modern offices. You can empower them even more by ensuring the spaces are cleaned thoroughly after all the hard work is done.
This will encourage them to utilise all the new facilities and settle into the space as though it was their own. You'll notice better retention rates and job satisfaction as a result. So what are you waiting for? Get in touch today to see how we can help.
Below are a few things you can expect from us during this process, but don't forget – every service we provide is bespoke to your needs.
1. Vacuuming
Chances are, you will be left with a layer of dust and debris after any refurbishment. It can leave the space feeling dull and impact the respiratory health of any staff or visitor. To mitigate this, we will carry out thorough vacuuming in all the main areas and hard to reach places – ensuring every carpet is free from embedded dirt.
While it may seem like a quick job that could be done by the first person in each day – the reality is that carpets can be home to a lot of hidden debris. If this process isn't done thoroughly and care isn't taken to cover even the most hidden of areas – you could be left with an unhealthy environment.
Our team can complete this process quickly and efficiently while ensuring the least disruption is caused to your business. That is why we offer a 24-hour service to suit your operating times.
2. Thorough Kitchen Cleaning
One of the more communal areas in an office is the kitchen. Food is prepared, people relax and socialise here and the equipment, worktops and facilities are being used by multiple people. This makes it a hot spot for bacteria build-up.
A professional office refurbishment clean will ensure these areas are ready for use from day one. Disinfected worktops and properly scrubbed microwaves, fridges and skins will allow the team to make use of a safe and healthy environment when eating, preparing or storing food.
Every new piece of equipment should be thoroughly cleaned to get rid of manufacturing chemicals and coatings that may harm food products. As well as this, existing equipment will need to be rid of excess dirt and debris leftover from the revamp.
3. Spotless Ventilation
As well as the obvious areas you would expect a cleaning crew to manage, we want your entire building to be safe, healthy and spotless. Our team offers professional cleaning for air conditioning vents which means the internal air quality will improve significantly.
We are often concerned about the dust and dirt we can see on obvious surfaces and belongings, but the parts you can't see can be just as detrimental. Your air conditioning will blow air out into the office in order to regulate the temperature.
However, if the vents are dirty and clogged up with dust – these particles will also be getting blown into the environment. This poses the risk of spreading harmful germs and impacting the respiratory health of your employees.
To ensure these are taken care of properly and to avoid spreading these contaminants even more – contact our experienced team for a professional office refurbishment clean. We will leave no stone unturned and make sure every person that spends time in your building is well looked after and capable of enjoying the new surroundings.
4. Ensure The Outside Reflects The Inside
Part of our office cleaning service involves refreshing external fascias. We know how important it is to create a welcoming internal environment where people can be productive and feel inspired. However, the outside of your building is what makes the first impression for visitors and new staff.
As a result, hiring us to complete a full fascia cleaning will leave the outside matching the inside, even after a full revamp. To us, it is important we cover all areas. Otherwise, the job will feel like it's never done for you. You'll be finding spots here and there you wish you had time to clean.
Why just settle for a spotless meeting room, kitchen area or workspace when you can have everything and more!
5. Sparkling Washrooms
Communal areas like toilets and washrooms can be hard to keep spotless. It should be the responsibility of everyone using the facilities to keep them sanitary and take into consideration the next person to enter. However, these spaces will also require a far deeper clean from time to time. Professionals like our team will be able to provide a hygienic and sparkling environment.
After a refurbishment, areas with plenty of surfaces and wipeable materials will often look the least clean. This is because the surface dust settles quickly and is more visible than things like carpet or wood.
It is, for this reason, we suggest investing in professionals to complete the work. Every area will be left spotless, using the best products to remove bacteria and germs as well as general dirt. Your teams will feel much happier using all the facilities at work if they can be sure everything is clean and tidy.
Furthermore, any drains that are open to the elements may be impacted by the debris from a revamp job. This could lead to faults and clogging which may cause significant issues and even leaks. To avoid this, ensure commercial cleaners are brought in as soon after completion as possible. This way we can remove the debris and dirt before each facility is used.
6. Touchpoint Disinfection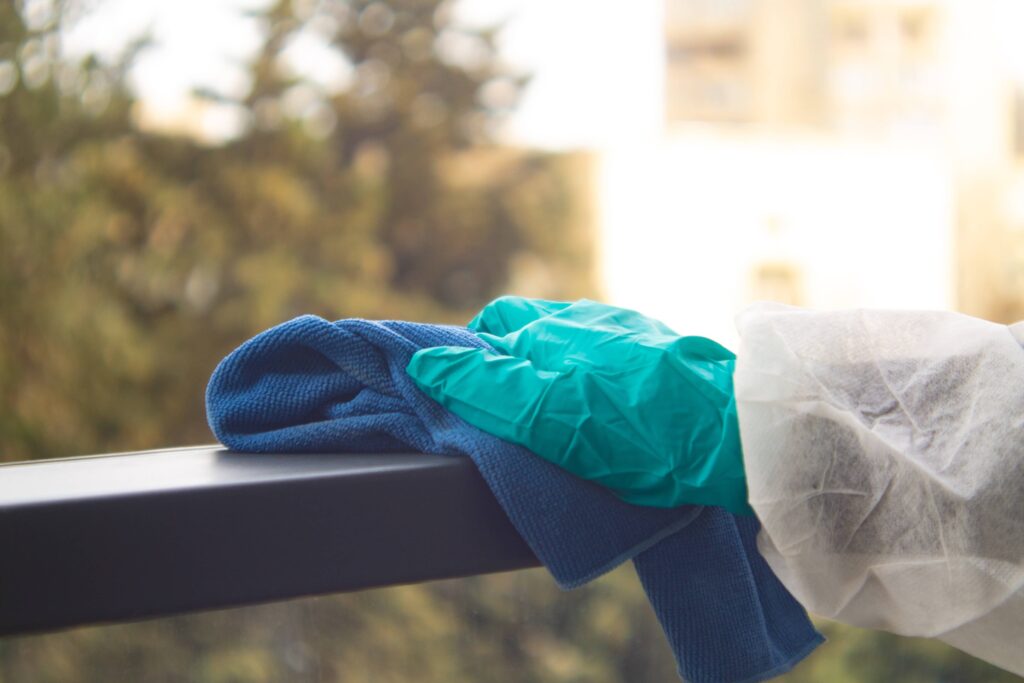 You may have tradesmen and contractors coming in and out of your spaces for a while to complete the refurbishment. But even after this, you will have plenty of visitors and staff utilising door handles, taps and other common touchpoints. This can lead to the spread of germs and the poor health of your employees.
We are always careful to pay close attention to these particular areas. Especially since implementing our Coronavirus deep cleaning service – it has become apparent that certain areas in commercial buildings should be professionally cleaned more regularly than most people invest in.
The first step after a business revamp should be ensuring the environment is safe for staff to return to. This means eliminating the risks left by workmen. After this, keeping up with this level of cleanliness will help reduce sick days and improve the overall experience of anyone entering your facility.
Get In Touch With Town & Country Cleaning Today
As well as all the points we've covered above, our professional office cleaning services are always bespoke to your needs. We can also provide you with the cleaning of:
Painted surfaces
Skirting boards
Staff rooms
Toilets
Polishing floors
Replace bin bags & remove rubbish
If you would like to find out more about the office cleaning services that we provide, all you need to do is give us a call and we will be more than happy to help you. You will speak to one of our friendly and professional customer team members. They will answer your queries, no matter how big or small. We can also provide you with a quote for office cleaning, whether a one-off clean or on a regular basis.