Managing the safety, functionality and sustainability of your building is a responsibility that requires a huge amount of organisational skills and trust in the companies from which you outsource.
For people to be most productive and engaged at work, they need an environment that is consistently welcoming, safe and optimal for productivity. Cleanliness is a major factor in our ability to carry out different roles without distraction. It's often difficult to manage this internally and regular, thorough cleaning can be outsourced to a commercial cleaning company like ourselves.
We can tackle the seemingly endless tasks and allow employees to focus on what really matters to the business. Below are some specific ways in which we can support you and ensure business runs as usual.
1. It's The Little Things
In a fast-paced organisation, you want people to be able to come in each day and get started. Too often staff waste time ensuring their environment is functional for a day's work. While you'd expect them to clean up after themselves, a commercial cleaning company can carry out deep cleans as well as the small sanitation jobs that get picked up throughout the day.
It reduces the risk of time-wasting massively and also creates a welcoming space from the offset. People will feel much more comfortable and motivated coming into an office that is tidy and clean without having to pick up from the week before.
2. Customer-focused
Client facing businesses often rely on their office space to play host to new customers and hold meetings with board members. When this is the case, an untidy premises is unacceptable and can seriously impact the reputation of your brand. It shouldn't be the job of internal staff to run around the hour before and make sure the rooms are ready for guests.
This could result in a customer waiting longer to be seen and creating a bad first impression that may impact client retention or new business. To overcome this, we can provide regular services that keep all areas safe and sanitised no matter the time of day.
We always cater our services to your requirements and so simply let us know if you're expecting someone important and we'll make sure to carry out an even more thorough clean of your main office areas. As well as general vacuuming, polishing and sanitising we can tackle air conditioning vents and washrooms. Little touches like this can be the slight difference between your customer service abilities and a competitor.
3. Responsiveness
One of the most critical aspects of choosing a commercial cleaning company is how responsive they are to your needs. As we mentioned above – you might have a last-minute booking for important clients at your offices or want an extra service while employees are clocked off.
We have a 24-hour manned reception service and 24-hour response policy for all enquiries. This gives you the peace of mind that even when staff are clocked off – you have someone to rely on for a pristine building ready for upcoming events.
We also understand that accidents happen. If you find yourself amongst an unexpected repair or need to get yourself back to normal after a messy construction job – we can provide the cleanup. The last thing we want is for it to affect your staff's capability to work or even attend the property. So give us a call and we'll let you know how we can help out as quickly as possible.
4. Remain Compliant
A facility manager will probably be worrying about the security and maintenance of the building when it comes to remaining compliant. It's easy to forget that your place of work will need to maintain a certain level of cleanliness too, otherwise, you may be breaching certain regulations depending on your industry.
It's important for both legal and insurance reasons to keep everything up to date and keep an eye on changing expectations. While you will be able to enjoy the obvious benefits that come with a clean building, you can also gain peace of mind that your systems and equipment are too!
Dust and debris quickly build up in vents and filters causing issues. If these are not regularly checked, you may find yourself in a predicament where things don't work or systems aren't maintained well enough to pass checks. The team at Town & Country Cleaning provide a full service and tackle even the jobs another commercial cleaning company won't do!
Air conditioning vents
Fascias
Dust Removal
These are just a few of the areas we cover that could help ensure you maintain compliance in all manners of your business. We are also an ISO9001 registered business that demonstrates our commitment to quality management procedures.
5. Waste Disposal
Taking out the bins is a job no one really likes to do. Especially at work when you've got to pick up after everyone else just to make sure your workspace is clean and tidy. Hiring us as your commercial cleaning company will mean you don't need to worry about any of that!
Our office cleans include replacing bin bags and ensuring waste is removed from the building safely and not left lying around for visitors and employees to see. This can make all the difference for staff and even help to improve the company culture simply by not having to worry about lumbering one particular person with the bad jobs.
It has even been known to cause arguments in the past – leaving sour relationships between colleagues. If you want to improve retention rates and ensure no one needs to be left responsible for extra duties outside of their main role, get in touch today!
6. Commercial Kitchen Cleaning
Get yourself a cleaning company that does it all. Facilities managers that work in hospitality will often have to manage multiple areas of a building including the kitchen. This can include anything from logistics to stock and cleanliness. Hiring one team to cover every aspect of the building takes that pressure off of the manager and allows them to easily keep track of cleaning processes.
The Health and Safety Act and the Food Hygiene Act dictate that cleaning commercial catering environments requires compliance with exceedingly strict hygiene protocols. Our team has undergone specialist training to ensure that these standards are consistently upheld, and meet all key rules and regulations set out within the sector.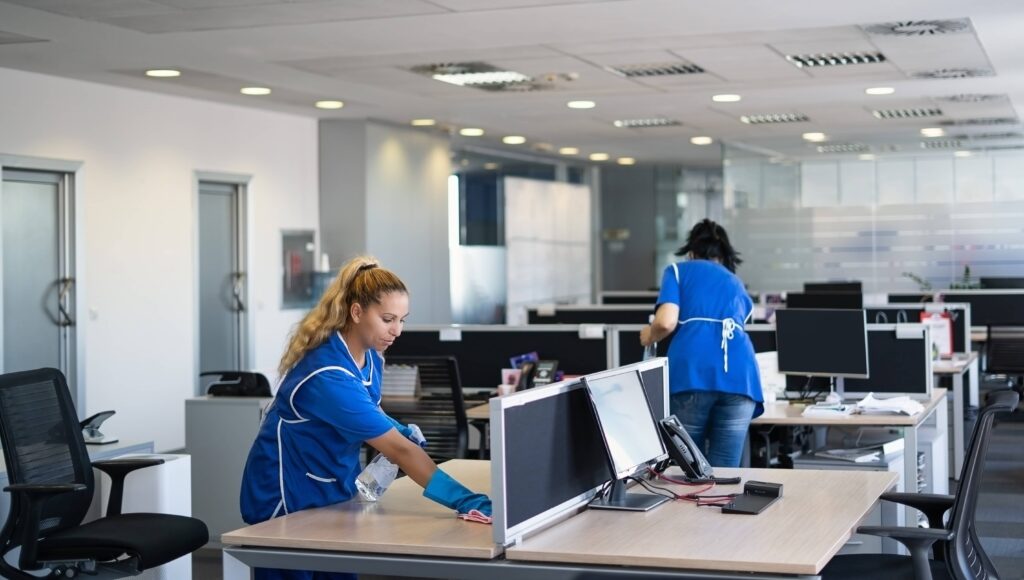 We understand that during business hours, your kitchen is too busy to deal with cleaning operatives attempting to work around everybody, which is why we offer our commercial kitchen cleaning services outside of business hours. Working within your out of hours periods, we are able to minimise your downtime and offer a convenient cleaning service.
As well as ensuring communal areas are ready for visitors and staff, kitchens need special attention to keep up with health and safety regulations and keep your staff safe.
7. IT Attention
Technological equipment is a specialised area of cleaning that is vital and can't be achieved thoroughly (and carefully) by anyone but a professional.
It's something that's used and handled by many people – often on a daily basis. This can lead to the build-up of dirt and grime quickly, posing a risk to the health of your employees and the condition of your tech. Often being touched by engineers, technicians and staff, we aim to clean them fully using our high-quality equipment and approved products to eliminate germs whilst protecting the systems themselves.
We can also take care of dust gathered behind and in between computers and servers. Our specialist dust extraction pumps remove the layer that could eventually cause overheating and serious running issues if left unresolved.
All of this is vital to ensuring the smooth running of daily processes and providing staff with the ability to carry out their roles! We understand that even one small issue with IT equipment can be detrimental, so let us keep them under control and disinfect all surfaces.
Plenty More From A Commercial Cleaning Company
Facilities management encompasses many areas of daily business and is relied upon to ensure smooth logistical operations as well as the upkeep of general rules and regulations. With this in mind, we want to provide a helping hand wherever possible.
Our services can provide the highest level of cleaning, fully registered and understanding of your operational hours so you can rest assured that those areas are catered for.
If you would like to find out more about the commercial cleaning services that we provide, all you need to do is give us a call and we will be more than happy to help you. You will speak to one of our friendly and professional customer team members. They will answer your queries, no matter how big or small. We can also provide you with a quote for office cleaning, whether a one-off clean or on a regular basis.