No matter whether it be for domestic purposes or perhaps for your own business, why not start your 2022 with a fresh clean environment? Town & Country Cleaning have years of experience providing a variety of different cleaning services.
As the coronavirus pandemic continues to affect many aspects of our lives, a nice sparkly clean environment can do wonders in preventing the spread and keeping yourself and others safe. It will also help ensure that any business is in line with health and safety measures such as those in place with the current covid-19 pandemic.
This article will explain in detail the different types of cleaning services we provide from commercial, specialist and domestic cleaning services. 
Commercial Cleaning – Commercial, Specialist and Domestic Cleaning Services
Town & Country Cleaning are fully trained to meet your requirements when it comes to our commercial and domestic cleaning services. We can ensure to meet these requirements without any disruption to your work schedule. We aim to provide you with the support needed and work within your preferred time while providing a thorough and professional service. 
Every business is different. This is why we have designed our services to fit around your business hours. We will let you decide which hours are most suitable and from there we can take over and clean to the highest standard and to your requirements.
Our commercial cleaning services cover a wide range of environments from offices to retail units, shops, hotels, leisure facilities, pubs and much more. Additionally, our deep cleaning services such as carpet and upholstery cleaning, window cleaning and external cleaning will provide you with the peace of mind that your business will be clean and shiny upon return to work.
Our commercial cleaning Services include (but not limited too):
Office Cleaning
It is important to maintain a clean and presentable work environment. This is why we work with you providing a cleaning agreement that meets your standards. Additionally, the frequency and depth of the clean can be tailored to your needs!
Start and End Of Year Lease Cleaning
For those with a commercial property coming to the end of its lease, you will need to have the premises thoroughly cleaned deeply ready for the next business that follows. It may also be the case that your company is relocating to a new location and you require a deep clean before moving into the new building.
Retail Cleaning
Running a retail shop and business is hard enough without having to worry about the stress of managing all the cleaning on top. Leave it to us, our years of experience makes us confident in maintaining any retail business from shopping centres, car showrooms and individual retailers.
Window Cleaning
We at Town & Country Cleaning have multiple window cleaning teams that are capable of cleaning domestic homes, builders cleans, regular communal windows as well as larger scale commercial window cleaning. Our service provides both reach and wash pure water fed pole system as well as detailed hand window cleaning.
Office Cleaning
No matter whether it be for small scale offices to large multinational companies; Town & Country Cleaning has provided cleaning services for an extensive range of clients over the years.
Our office cleaning service helps to ensure a working environment that is safe, healthy and productive. Furthermore by choosing Town & Country Cleaning for your office cleans, you will have a professional, organised workplace that will reflect your brand effectively. A companies' office plays a vital role for client perception and this is why we ensure that every corner of your office is spotless.
Specialist Cleaning Services
We have built a reputation of efficiency, safety, and quality with our specialist cleans. Additionally, our competitive pricing and customer care can assure you that we are the right choice when it comes to your cleaning needs.
We offer a wide range of specialist, commercial and domestic cleaning services. These include our residential cleaning services along with multiple different types of cleaning services included as part of our price plan that incorporates both indoor and outdoor cleaning. Additionally, we work with landlords, businesses and building companies as well in order to provide the specialist cleaning required. Holding a special event? We can provide the before and after cleaning services that are needed for special events such as parties, weddings and business conferences. To find out more check out our list of services on our website.
Some of our services include but are not limited too:
Builders cleans
Carpet and upholstery cleaning
Commercial kitchen cleaning
Communal cleaning
Coronavirus deep clean
End of tenancy cleaning
High level cleaning
Moving house cleans
Window cleans
School cleans
For our specialist cleaners, there is no task that's too big or small. We are always adapting to meet the needs of our business and residential customers and our cleaning methods meet all environmental standards. Furthermore, our contracts are optimised to ensure each customer gets services at the highest possible standard. Thus, no matter your cleaning needs, Town & Country Cleaning can be trusted to get the job done to a highly professional standard.
Here is a little more detail into some of the specialist services we offer:
Carpet and Upholstery Cleaning
There is one place in the workplace or home that carries an awful lot of germs and that is the carpet. Carpets often fill with dust and dirt that can be difficult to see. For this reason, it is essential to invest in professional carpet cleaning services. When you choose our service, you can be sure that all dirt and debris is removed effectively. This means your carpet will be left looking as good as new and that your environment is both safe and healthy.
Commercial Kitchen Cleaning
We at Town & Country Cleaning are experts when it comes to commercial kitchen cleaning services. We can provide our specialist kitchen cleaning for pubs and restaurants of any size, from large chains to smaller independent eateries. We can also provide cleaning for commercial kitchens in schools, care homes and hotels as well. Furthermore, Town & Country Cleaning also specialise on kitchen extract and supply duct-work cleaning for a nationwide scale.
Contract Cleaning
Contract cleaning is required by a vast variety of different businesses. Whether you own a restaurant, pub or hotel, we have the tools and experience to get the job done. Literally any type of business from hospitals and schools, work canteens and food production areas will benefit from this service. This is especially true to ensure that you uphold your duty to abide by health and safety regulations in place for your business.
Hospitality Cleaning
We offer a budget friendly and high quality service that allows us to deliver the very best for your company.
Our hospitality cleaning services aim to provide you with a clean, germ free area for guests and for all areas of your premises. Our excellent cleaning services will ensure all floors, upholstery, communal areas and windows are cleaned in a professional manner usong the highest standard of tools and equipment. Our reach and wash service allows us to work sustainably. This means less detergent and less water wastage! We take an incredible amount of pride in what we do.
Deep cleaning is also essential within hospitality and we understand the impact of having harmful toxins and bacteria building up within public spaces.We sterilise all areas that are frequently used in addition to the deep cleans we provide.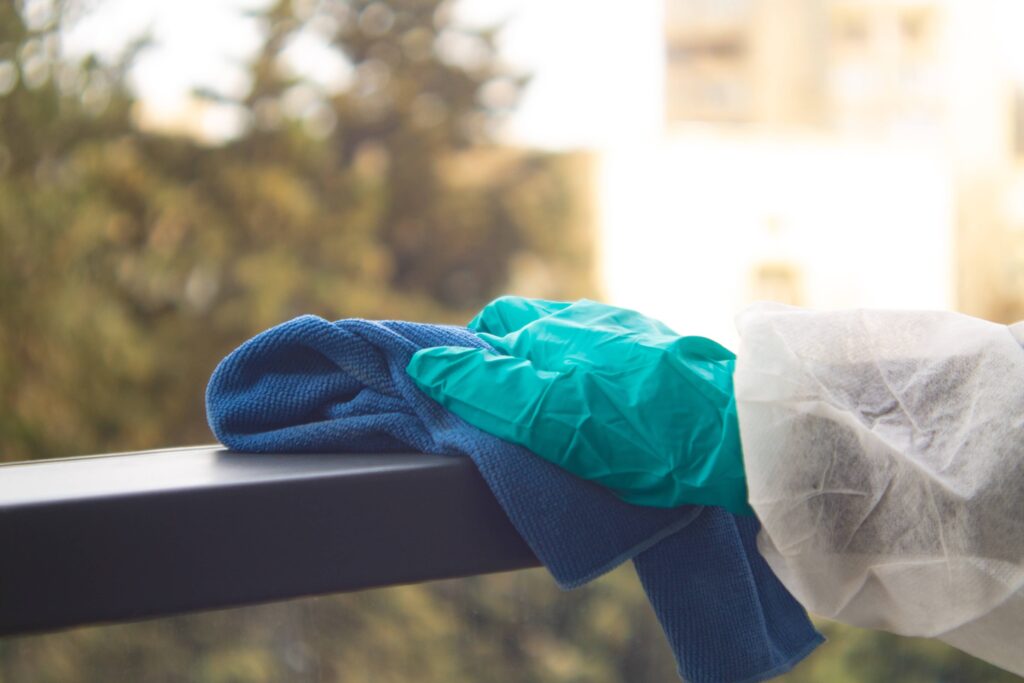 Domestic Cleaning Services
Town & Country Cleaning manage many domestic cleaning services for customers in local catchment areas including Farnham, Guildford and surrounding towns and villages. As an approach, we assign the same cleaner(s) on the same time and day with an agreed cleaning specification to best suit your own individual needs and preferences.
This may include assigning cleaners that genuinely like pets or alternatively cleaners with a particular passion for carrying out specific cleaning tasks. Town & Country can also provide specialist cleaning services as mentioned above such as for window cleaning and carpet cleans. The only thing we ask is a minimum 2 hour visit per clean and cancellations prior to the day of the intended clean.
Get in Touch With Us!
We take a great amount of pride in our customer service and therefore would be more than happy to answer any specific queries you have, no matter how big or small. Because of this fact, there are various ways in which you can contact us. If you would like direct communication, you can use our customer service line. Alternatively, you can also use our "contact us" page on this site where you can find a quick simple form to fill in. We are also reachable via email and will respond as soon as possible.
Town & Country Cleaning has some 65 staff managing +300 customers across both commercial and domestic clients in Surrey, Hampshire and across the south of England. We also have accreditations including BIFM (British Institute of Facilities Management), British Chamber of Commerce and ISO9001.
Contact us on 0845 222 2000 or email info@townandcountrycleaning.com to get a quote for your next service! We can't wait to hear from you.