After Builders Cleaning is an essential aspect of a building project that is often overlooked by project owners. However, this can be hugely problematic as it can result in them not getting the desired never of cleanliness wanted after construction and renovations. Often owners will tend to focus solely on construction matters. But once the construction has finished, the entire project should be cleaned thoroughly. This is where the support of a professional after-building cleaner can be really beneficial.
If you are looking for after-builders cleaning services, Town & Country Cleaning is here to help. Town & Country Cleaning has a 100% customer satisfaction guarantee on all builders cleaning services. With many years of experience in the industry, we can help provide builders with cleans for a wide range of properties throughout the country. This has enabled us to build up an impeccable reputation within the industry. By choosing Town & Country Cleaning to carry out your after-builders cleaning, you can have peace of mind when you choose your service. We have helped many companies with builders cleans including; Barratt Developments, Taylor Wimpey, Beechcroft Developments, Legal & General, Aquinna Homes, Churchill Retirement Living, Lusso Homes and Kirkby Homes. 
Why it is Important to Find the Right Cleaning Service
When trying to find the right cleaning service for after builders cleans, you may be tempted to opt to ask your neighbours and friends for support. However, it is of utmost importance to ensure that you hire trusted and certified professional cleaning services for your construction projects. The reason being that they are trained to handle a range of different environments from various home settings and customised infrastructures. They can use their years of experience to ensure a top quality service and can implement the most up to date machines and technology to get the job done as efficiently as possible.
What Does a Builders Cleaning Service Include?
Risk Assessment
The first part of a pre-building cleaning service involves a health and safety risk assessment carried out by skilled professionals. Professional cleaners will always come fully prepared with proper precautions in place such as using protective gloves, helmets, High vis vests and safety boots.
Town & Country follow the stringent health and safety regulations that are in place and have both employer and public liability insurance. Our long standing reputation with construction firms, ensures that you are in safe hands. Our prices are also very competitive and we guarantee you will not find a service that offers the quality we do for such a great price anywhere else.
Debris Removal
Construction projects often have a large quantity of wastes such as pieces of wood, dust, grime and debris. Some materials can be harmful in that they can be a health hazard or can cause physical injuries if accidents take place. This is why we always ensure that the entire property is cleaned thoroughly, and that impurities are dumped in a safe way so that no issues arise as a result of them.
Town & Country Cleaning will send a professional team armed with the proper equipment and tools to get the job done to a high standard.
Dust Removal
A full builders cleaning service will also include the cleaning of floors completely and sanitizing them prior to any allowance for access. The floors will also be vacuumed using top grade cleaning solutions. Builders cleaning services will also ensure that any more dust gathered on furniture, shelves, cupboards, doors, windows or anywhere else is removed for a pleasant future use. All in all you can expect when choosing Town & Country Cleaning for your builders that your facility will be cleaned from top to bottom leaving it rid of dust and impurities.
What Else Should You Expect?
As part of your builders cleaning service you should also expect any paint residue or plaster left after the construction or renovation. Additionally, any finger or other marks will be removed from areas such as cleaning panels. You will also be ensured a full clean of any doors or glass around the site. If the area has hard wood floors, these will usually receive adequate polishing and buffing. Tiled walls and toilets will be wiped and outside windows will be de-taped and properly cleaned for the glass and frames.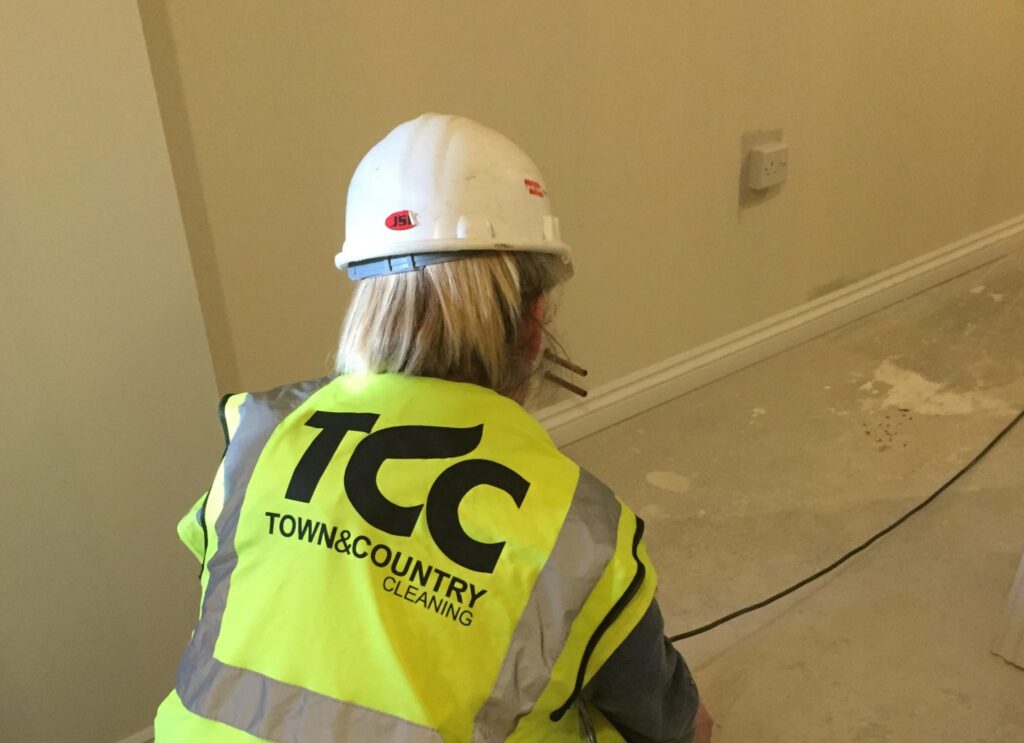 Save Time and Money
By leaving the Cleaning to our experts at Town & Country, you can rest knowing your after builders cleaning is in good hands. We will go through every vertical to clean the area once the builders have finished with the project.
Additionally, you may save money as you will no longer need to employ extra staff to do the cleaning. We will offer top quality professionals and all the cleaning equipment required depending on the site. We will pay for the cleaners and also all the equipment will be taken care of by us meaning you will not need to waste money providing these tools.
There are many benefits of hiring a professional after builders and cleaners. After your construction project , if you are seeking for an after builder cleaning service, get in touch with us and request a quote.
What Other Cleaning Services Do We Offer
Here at Town & Country Cleaning, we offer a wide range of cleaning services and take pride in our dedication to providing the highest possible service. Some other services that we provide include:
Commercial Kitchen Cleaning provides specialist kitchen cleaning for pubs and restaurants of all sizes, from large restaurant chains to smaller independent eateries, in addition to being able to provide cleaning for commercial kitchens in schools, care homes, and hotels.
Builders Cleans ensure that any property is left sparkling once builders have left the building! We provide this cleaning service for homeowners, small local businesses, and large multinational building companies.
Window Cleaning – We have multiple window cleaning teams capable of cleaning a domestic home, builders clean, regular communal window cleaning, through to large-scale commercial window cleaning. We provide both reach and wash pure water fed pole system and detailed hand window cleaning.
 Carpet and Upholstery Cleaning makes sure that all of the dirt and debris is removed effectively. This will not only leave your carpet looking as good as new but it will ensure that you live and/or work in a safe and healthy environment as well. 
End of Tenancy Cleaning ensures the cleanliness and functionality of a property after a lease has ended. When you decide to move premises, we will proudly assist you in cleansing your premises to minimise stress, to eliminate bacteria, odours and potentially harmful toxins, as well as giving the premises a spruce up to ensure it looks as good as new for the new occupant. 
Conclusion
For any construction or renovation project, builders' cleans are essential in ensuring health and safety alongside a clean environment. This is achieved by removing any waste material that can cause accidents and any dust and grime that can be damaging to your health long term. Builders cleans also ensure that any surfaces are left spotless of any marks such as  from fingerprints or paint so that the facility in question is ready for future usage. All impurities are ensured to be disposed of properly and in a safe way as to not cause further issues.
Cleaning after projects such as these can be a tall task if you try to go about it alone. This is why it is best practice to contact a professional builders cleaning service who have experience within this field and can apply their expertise for a professional result. Here at Town & Country cleaning we have years of experience providing professional cleaning services for many different areas including; kitchen cleaning, builders cleans, window cleaning, carpet and upholstery cleaning and much more. 
Why Choose Town & Country Cleaning
It cannot be stressed enough the importance of quality builders cleaning services. Everyone wants a clean environment but there is much more in how you can benefit from this type of service. Builders cleaning services are extremely important for abiding to health and safety regulations that are in place.
We take a great amount of pride in our customer service and therefore would be more than happy to answer any specific queries you have, no matter how big or small. Because of this fact, there are various ways in which you can contact us. If you would like direct communication, you can use our customer service line. Alternatively, you can also use our "contact us" page on this site where you can find a quick simple form to fill in. We are also reachable via email and will respond as soon as possible.
Our site provides you with all the information you need regarding our different cleaning services. There is an abundance of information concerning our cleaning services and how we can support you. Don't put your health at risk. Get in touch today for superior quality building services.
Town & Country Cleaning has some 65 staff managing +300 customers across both commercial and domestic clients in Surrey, Hampshire and across the south of England. We also have accreditations including BIFM (British Institute of Facilities Management), British Chamber of Commerce and ISO9001.
Contact us on 0845 222 2000 or email info@townandcountrycleaning.com to get a quote for your next service! We can't wait to hear from you.