We are all very aware of the risks we face when returning to work. Whether taking a hybrid approach or going back into the office full-time, it is important everyone understands how to tackle it. Because of this, there are a few measures you can take to ensure your workplace is kept Covid-safe during the winter months and into the new year.
When we carry out commercial cleaning services, we understand that businesses need to keep disruption to a minimum. The same goes for keeping your own spaces clean and tidy. It doesn't have to be something that takes significant time out of your day. However, it is important we work together to mitigate any viruses. Implementing some easy to follow strategies can encourage people to get involved and take action.
How Does The Virus Spread?
The risk of infection will vary depending on many factors. It can be spread from person to person, via direct contact as well as by touching surfaces that have become contaminated via aerosol or droplet infection. Some of the factors that determine the risk include:
The material of the surface contaminated
The amount of virus that has been spread
The contact time by an individual to the infected area
Time since the contamination was carried out
Of course, we have all been updated with the best ways to reduce the spread. Personal hygiene measures include regular hand washing and disposing of tissues correctly. As well as this, we are being encouraged to disinfect surfaces regularly and keep indoor spaces well ventilated.
These are just a few of the things we can all do to keep ourselves and others as safe as possible. Although, there are other precautions and actions we can take to mitigate it further and ensure your workplace is kept Covid-safe.
What Is A Covid Secure Business
Unfortunately, every place of work will be at some risk of Coronavirus transmission. There is no way for us to create an area free from infection when we are moving in and out and sharing the space with others from various locations. However, we can make sure that it is as safe as possible for those who are returning to the office. This includes staff, visitors and anyone else who may come into contact with your site.
To start the process of making your business secure, you will need to identify and assess the risk. Only then can you take the necessary steps to reduce it.
How To Ensure Your Workplace Is Kept Covid-Safe
With the guidelines and regulations put in place by the government – every employer should have carried out a risk assessment specific to Coronavirus. During this, you will have considered who is returning to work and which tasks will be taking place on-site. While these may differ from day to day, having a basic understanding will help you realise what cleaning regimes should be put into place. 
#1 Identify Common Touch Points
As a result of the pandemic, normal cleaning practices are not going to suffice. We would first suggest identifying surfaces that are touched frequently or used by multiple employees. Examples of this include:
Desks, work surfaces and platforms
Door handles, railings and window latches
Communal areas such as toilets, lift buttons and kitchen wear
Kettles, taps, cutlery
Keyboards, mouse, printers and monitors
Access control ie. keypads or intercom systems
#2 Implement A Regime
Once you have identified the most common areas – it is time to put a strategy in place to disinfect them. It may not always be possible to clean after every use. Where this is the case – you should be making the effort to enforce hand hygiene and providing sanitiser where possible.
However, where your employees and visitors can get involved – it may be possible to provide disinfectant spray or wipes. Creating these cleaning stations in common areas will encourage people to take action and create a safer environment for the next person.
It may also be worth creating a new section in the employee handbook or investing in new signage that lays out your new approach to cleanliness. Simple pointers such as making everyone aware of how often they should be disinfecting their workspace or reminding them to keep their distance from others will help implement continuity. 
#3 Reduce The Need For Cleaning
While it is imperative we have these regimes in place, the best way to ensure your workplace is kept Covid-safe is by reducing people's contact with surfaces in the first place. This may mean making some changes to the way you work and how the business is being run. However, where possible it will help mitigate the risk of contamination. Some ways you can do this include: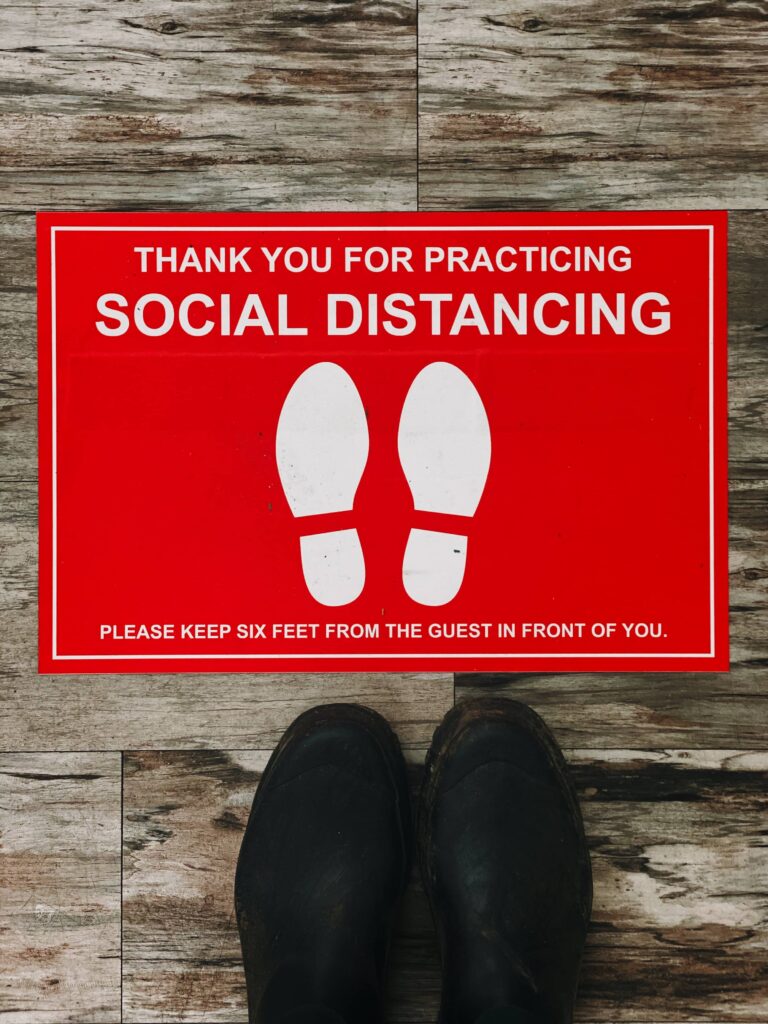 Limit people's movement around the building
Prop doors open where possible to limit touchpoints
Allocate equipment or reduce those available to certain individuals/departments
Install door hooks
Implement a hybrid working scheme
Allocate areas/rooms to certain departments or groups
#4 Outsource For Deep Cleaning
The most efficient and thorough way to keep your business as Covid-secure as possible is to invest in a professional cleaning team that can carry out a deep clean on all areas. In light of the pandemic, we have highlighted to customers the importance of utilising specialist electrostatic sprayers and disinfectant chemicals. We use these to specifically combat Coronavirus on multiple surfaces.
As well as this, the general day to day tasks we have suggested won't be enough to mitigate the risk entirely. Our deep cleaning services will leave you assured that no stone was left unturned. It is our job to tackle every nook, cranny and hard to reach space. While the worktops and touchpoints visible to us will need regular disinfection – we often forget about the hidden areas that could be causing just as much of a problem.
When you choose Town & Country Cleaning, you can expect air filtration and ventilation cleaning. This is vital for the mitigation of Covid-19 as fresh air and proper circulation will help make sure the virus does not linger or remain in an area longer than needed. Not only that but after each service, you will be provided with all of the reports and certifications to prove every area has been covered. Not only will you feel safer, but you'll have the paperwork to prove that you are.
#5 Cooperate With Outside Cleaning Crews
This is one of the most important things you need to consider. Teams like ours at Town & Country Cleaning are visiting commercial sites to ensure your workplace is kept Covid-safe. While we want to ensure you are secure, we also don't want to put our own employees at risk. As a result, we avoid touching common areas and personal belongings unless it is absolutely necessary.
Due to this, we would always ask you to make sure worktops, desks and other areas are cleared at the end of the day. Similarly, if your business is running 24/7 – it could be useful to allocate some time for each area to be cleaned during the day. This will allow for that space to be cleared and tackled in its entirety.
Without this cooperation, there may be areas or rooms that we cannot clean fully. Especially with our deep cleaning services – we do not want to damage any equipment or property with the products we use. Simply reminding employees to keep desks tidy or take equipment home where possible will allow us to carry out each service as thoroughly as possible.
Choose Town & Country Cleaning For Coronavirus Mitigation
Every business owner wants to ensure their employees and visitors are as safe as possible while this virus is at large. We have seen the devastating impact it can have on people's lives and so we need to make sure every precaution possible is taken to keep the risks low. It is never too late – it just means we need to approach daily life in a slightly different way.
With many companies, you can expect multiple people moving in, out and around a building each day. Even with more hybrid strategies in place, there are few enterprises that will stay 100% working from home. As a result, we are seeing more freedom in our personal lives and so more people are at risk of spreading germs and viruses from home to work.
Implementing a more regimented cleaning strategy each day will give you the best start to creating a Covid-secure environment. However, to give you the best chance – deep cleans and specific regimes need to be put in place. With our experience, we are well versed with a variety of building types and business requirements so can cater to your exact specifications.
Town & Country Cleaning has some 65 staff managing +300 customers across both commercial and domestic clients in Surrey, Hampshire and across the south of England. We also have accreditations including BIFM (British Institute of Facilities Management), British Chamber of Commerce and ISO9001.
Contact us on 0845 222 2000 or email info@townandcountrycleaning.com to get a quote for your next service! We can't wait to hear from you.