Personal hygiene and cleanliness remain a key part of every school's curriculum. Children are taught from a young age how to keep themselves clean and the areas around them tidy. But how often do we practise what we preach in schools?
The spread of viruses isn't limited to human contact. We forget that surfaces can play host to these nasty bugs for long periods of time. This is why it is so vital that local schools, colleges and universities are utilising professional cleaning services Farnham like the ones we offer.
Teachers and other staff have busy enough schedules as it is without having to worry too much about the cleanliness of their classrooms at the end of the day. While many make the effort to keep them tidy, deep cleans and thorough checks often go amiss. Because of this – outsourcing to experts can ensure the whole building is kept safe and sparkling.
With so many pairs of feet rushing in and out of corridors, areas will naturally accumulate a lot of dirt and debris over time. If things like this are left too long between proper cleans – you could be looking at hidden health hazards for both staff and pupils amongst other things.
Benefits Of Outsourcing Professional Cleaning Services Farnham
You may be thinking: 'well I can just do it myself or get the staff to clean up'. While you may be right – chances are you won't get the same level of safety and cleanliness. Not only will an expert job benefit the reputation of the school, but it will provide a much nicer learning environment for staff and students.
Safer Learning Environment
A big part of school life is working to prevent the spread of common coughs and colds. It's a busy environment that, understandably, is also home to plenty of seasonal bugs which spread like wildfire.
It is vital that staff take every precaution possible to help in providing this safe environment for the pupils. They can take measures such as:
Encouraging regular hand washing
Wiping down surfaces after use and before eating off of them
Displaying signage around the classroom/school encouraging good hygiene
Providing tissues and closed bins to dispose of waste
While these are things that can be done within the building, it is also important to cover the areas that are forgotten. Our professional cleaning services Farnham are reliable and thorough.
The services we offer, cover everything from a full inspection of the building to anti-bacterial deep cleans. It is our job to tackle every problem area and make the classrooms, corridors and canteens safe to learn and work in.
Better Attendance
As a result of a safer learning environment – you will notice fewer sick days being taken by both pupils and staff. It's important we eliminate the risks before they have a chance to impact our health.
This is why we recommend regular cleans to keep up with general hygiene and tidiness. Especially in the winter months, we need to keep on top of everything and ensure that germs being brought in from elsewhere are gotten rid of quickly.
Similarly, without continuity, schools could be harbouring mould and other harmful toxins that wreak havoc on people's health. While you think the place might be fairly clean – it is businesses like Town & Country Cleaning that will get to the nitty-gritty and provide a cohesive service.
Especially with young children who could be more vulnerable, it is important to cover all bases. As a result, your staff and pupils will be more able to arrive happy and healthy every day.
Create A Sense Of Pride
Headteachers and governors will always want the school community to be proud of what they belong to. Having an attractive area to associate with learning and working will help this be possible.
Firstly, you will see a positive impact on morale throughout the staff. They will be more productive in their work and will actively want to play a part in the community. At busy times, this can be even more important to enforce and will be a factor in preventing burnouts.
Also, everyone relies on a good reputation to attract parents and new employees as well as maintaining that all-important Ofsted report. While the 'O' word can scare people away – cleanliness is all part of the safeguarding procedures you go through each day. So it is important to keep on top of it.
Happy, healthy students will be more attentive and productive in class which will see them look forward to school each day and excel in what they do. If they know they are entering a safe, fun environment, they can be better prepared to learn and represent the school.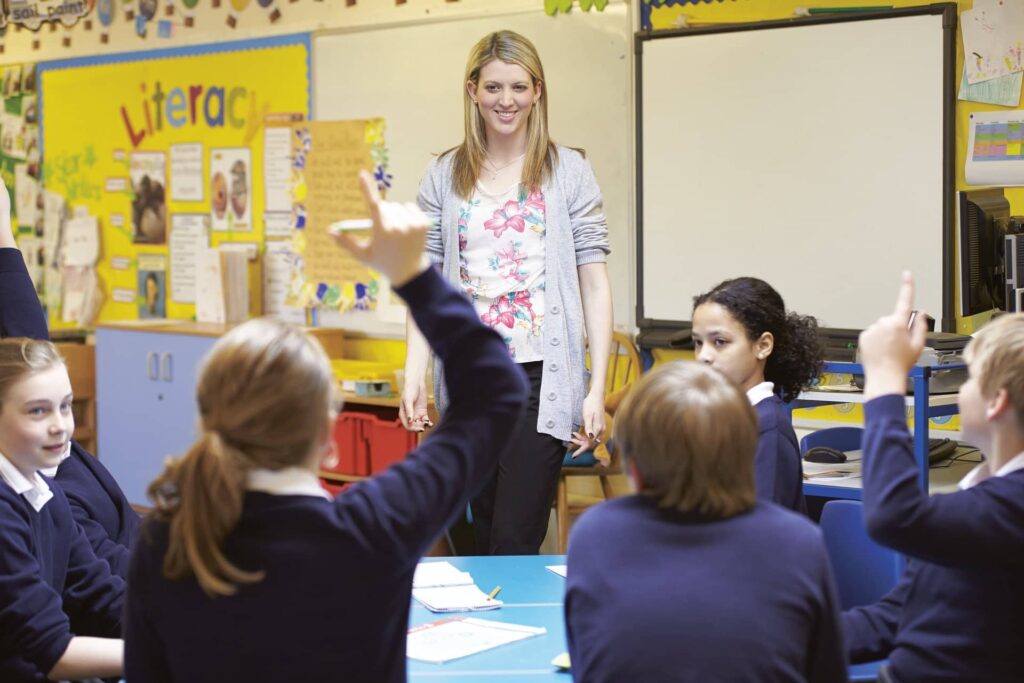 Time & Money Saved
With such tight budgets, you want to be mitigating any issues and tackle them before you reach crisis points. Our professional cleaning services Farnham work to do this by maintaining the environment as a whole and extending the lives of equipment and furniture.
Instead of replacing carpets, flooring or tables every couple of years – keeping them well maintained will ensure they last as long as possible. We always tell the little ones to look after the equipment and treat them as though they were their own. But how much do we make it part of our own lives?
To avoid expensive replacements or time on temporary repairs, make the effort to keep everything clean and hire experts to do the bulk of that for you! This way you are investing money in a service you know has multiple benefits – rather than temporary solutions.
24 Hour Services
Here at Town & Country cleaning, we offer a 24-hour service to suit your operating times. This means that we can arrive after parents and children have gone and get the building completely ready and looking its best for when they return.
Instead of asking staff to stay longer or extend working hours, you can rely on an expert provider to do the jobs they shouldn't need to worry about. As a result, cleaners will not have to rush the job to finish before the building becomes busy – giving you peace of mind that the service provided is thorough.
Similarly, if you are expecting certain events like parents evening or open days – you can call upon our team to revisit certain areas. There is no job too big or small and we know how important it is to create that sense of pride we mentioned earlier.
Complete Flexibility
We know that during the holidays, schools may not need the same attention as in term time. However, it is always beneficial to keep up with a basic routine at the very least. This can be hard if you have in-house cleaners or are relying on other school staff as you will have to pay them accordingly and grant access.
Utilising our professional cleaning services Farnham means you can pick and choose the regularity of cleans. If you decide to do a deep clean at the end of term and then spruce it up before everyone returns – our team will be more than happy to oblige.
You may not get this flexibility otherwise and it can help save you money when the building is unoccupied. At the same time, you may recognise a time whereby the school needs extra care. It gives you the opportunity to personalise your service to the busy and ever-changing environment.
Expert Equipment
As well as keeping your community safe and providing the best environment for them all – you can expect the best clean with expert equipment. Not only will this ensure all areas are free of dirt, bacteria and grime, but it means we can tackle those hard to reach problem areas.
Our team uses all the top of the range equipment and expert methods with any job. While we recognise every client will have different requirements – we are careful to keep a high standard of professionalism in everything we do. We are constantly adapting to meet the needs of each business or domestic customer and all of the environmental standards.
You can be sure that while everything is being cleaned – nothing is being damaged or left unsafe. We have the tools to do a total cleanup and ensure all areas are ready to be used without hazard.
Other Reasons To Outsource
It's cheaper
When you choose to do something in-house, it can seem like you have more control over the outgoings. Factoring in the indirect costs of hiring and retaining employees will be something you won't worry about with an expert contracting team.
There are no company benefits, sick pay and time off to worry about. You just pay for the services and can be sure the job gets done to the highest standard.
There is a labour shortage
Especially with the current climate and the unprecedented times we've been through recently – it is becoming increasingly difficult for schools to maintain the minimum level of cleaning required.
When you outsource, you can expect the standards to be maintained no matter what. The professionals are already there – you just need to contact them.
Covid Mitigation
This is something we all have to consider now. But schools have taken a huge hit during the pandemic, with children losing out on education and buildings having to be deep cleaned on a more regular basis to comply with regulations and keep people in school.
Our project cleaning capabilities mean we can keep on top of this at all times and ensure your school is as free of Covid as possible.
Contact Town & Country Cleaning For Your School Cleaning Needs
Keeping on top of seasonal viruses and general dirt and grime is important in any building. But when it comes to such a bustling and busy environment like schools – we need to make sure it's being done properly.
When you contact professionals, you can rest easy that every inch is being thoroughly cleaned to provide the safest environment for your staff and pupils. It will also help to save time and money on repairs by maintaining your equipment and keeping on top of every process.
Town & Country Cleaning has some 65 staff managing +300 customers across both commercial and domestic clients in Surrey, Hampshire and across the south of England. We also have accreditations including BIFM (British Institute of Facilities Management), British Chamber of Commerce and ISO9001.
Contact us on 0845 222 2000 or email info@townandcountrycleaning.com to get a quote for your next service! We can't wait to hear from you.